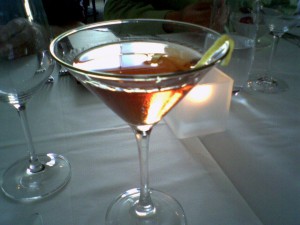 The Brown Turkey is the original creation of Austin, Texas bartender Justin Chamberlin, who had a bite of Thanksgiving stuffing and knew what he had to do. As the book describes, this drink combines the subtle spices of aged rum with the sultry sweetness of figs, and a bright, bubbly pop of sparkling wine.

Fig and Brown Sugar Reduction
Combine the rum, fig reduction, and bitters in a cocktail shaker. Add ice and shake well. Double strain into a chilled flute, top with the sparkling wine, and garnish with a twist of orange.
Fig and Brown sugar Reduction
Combine the water and brown sugar in a medium saucepan over medium-high heat, stirring to dissolve the sugar. Add the dried figs and bring to a boil. Cover, remove from the heat, and let steep for 25 minutes. Double strain into a clean glass bottle, cover, and refrigerate for up to 2 weeks.