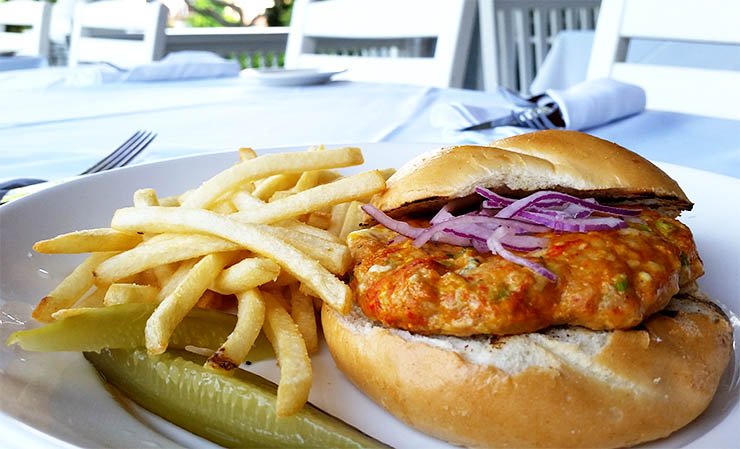 If you love buffalo wing sauce, we think you'll have the best time with our buffalo-style chicken burgers. As things often happen around the Food Schmooze kitchen, Faith started fantasizing about a "buffalo sauce" burger, and Chris Prosperi said, "I'll take a crack at that." The next thing you know, we were chomping down on thick, juicy burgers, dripping with that bright orange wing sauce. Heaven.
What we like about the Chris version is that he was inspired by blogger Joy Bauer's recipe, then made it his own—we advocate putting the blue cheese on top of the burger, not inside it, and putting out a bowl of Frank's hot sauce for those who want more zing. The top-side cheese has a more intense blue flavor, and softens the heat. You can do this gluten-free, of course, or as a wrap, or on top of greens without the bread. (Okay, paleo eaters, you can also skip the dairy altogether and be perfectly happy.)
How easy is this? Throw together the ingredients, feel free to add more of this, less of that, and you're ready to cook and enjoy.
Photo: Chris Prosperi

In a large bowl combine the ground chicken, hot sauce, chopped celery, scallions, and blue cheese.

Divide the mixture into 8 balls and then form into patties. Place each patty on a lined cookie sheet and place into a pre-heated 400° F oven for 10–12 minutes or until full cooked.

Serve on a toasted roll with shredded lettuce and slice red onion.