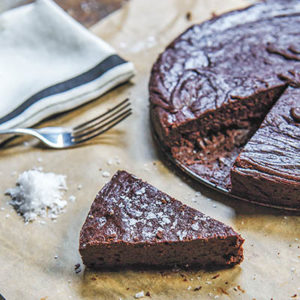 This flourless chocolate cake laced with one of our favorite whiskeys is baked for a short time so it has a gooey consistency with a distinctly boozy whiff.
— Mike & Amy Mills
• ON-DEMAND: Listen to Faith and Mike discuss this recipe during The Faith Middleton Food Schmooze®. •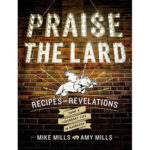 Excepted from PRAISE THE LARD by Mike Mills and Amy Mills. Copyright © 2017 by Mike Mills and Amy Mills. Photo: Copyright © 2017 by Ken Goodman. Used by permission of Rux Martin Books / Houghton Mifflin Harcourt. All rights reserved.

Preheat the oven to 425°, with a rack in the center. Spray a 9-inch springform pan with nonstick cooking spray and wrap the outside with aluminum foil. Fill a 13-x-9-inch baking dish with water and put it on the lower rack in the oven.

Melt the chocolate and butter in the top of a double boiler or a small saucepan set over gently simmering water in a larger one. Mix well and set aside to cool slightly.

Beat the eggs in a large bowl with an electric mixer on medium-high speed for 5 minutes, until thick and creamy. Fold in half of the melted chocolate mixture, then add the bourbon and vanilla and fold in the remaining chocolate. Pour the batter into the springform pan. Set it on the center rack above the water.

Bake 12 to 14 minutes, just until set; do not overbake. Turn off the oven and let the cake sit in the oven, with the door propped open, for 5 minutes.

Serve at room temperature. Finish with sea salt or powdered sugar.