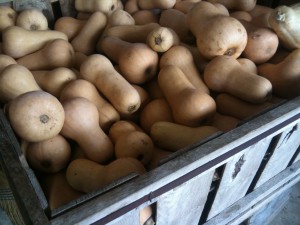 We have something different for butternut squash-lovers, and we know there are many seeking something different to do with squash. This Italian treatment adds a bit of sweet and sour taste… Butternut Squash Agrodolce. Think red wine vinegar, mint, and honey. Pure Italian countryside. But here's what's fantastic about this dish. Cooking Light Magazine published this recipe some time ago, and they've lightened it up, in case you want to save the extra calories for our pumpkin pie recipe with a streusel topping.

Place squash on a baking sheet. Drizzle with oil, and sprinkle with 1/2 teaspoon salt and pepper, tossing to coat. Bake at 400° for 35 minutes or until squash is tender and golden.

Combine vinegar, honey, and 1/2 teaspoon salt in a small bowl. Place cooked squash on a platter. Drizzle with honey mixture, and toss to coat. Sprinkle with basil and mint.