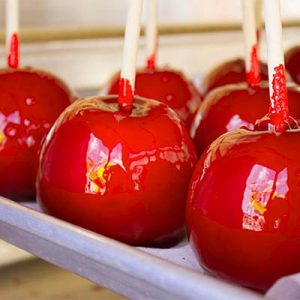 This classic fair staple is fun to make at home, especially for a Halloween treat. Note that Rome apples will make the prettiest candy apples, and you'll want to store the finished candy apples in a cool, dry place. You don't want to store these in a refrigerator because the candy coating will become soft.
• ON-DEMAND: Listen to Faith and the gang talk to George about this recipe, as well as other popular favorites from fairs across the country. •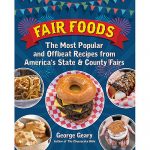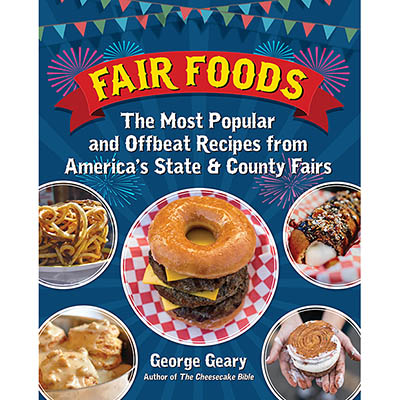 Excerpted from Fair Foods: The Most Popular and Offbeat Recipes from America's State & County Fairs by George Geary. Copyright ©2017 by George Geary. Published by Santa Monica Press LLC. Photo by Kylie Tefft

Press a stick into each apple and set aside.

In a large saucepan, combine sugar, corn syrup, water and food coloring. If any sugar granules end up on the inside of the pan, use a wet pastry brush to clean them down. Set the mixture over medium to high heat and bring to a boil. Insert a candy thermometer into the liquid to allow it to boil, without stirring, until it reaches 302°F (hard crack stage), about 20 minutes. Remove from heat.

Add vanilla and stir only slightly to blend. Working with 1 at a time, dip the apples into the mixture, tilting the pan to coat them evenly. Let the excess dip off into the pan, then set the coated apples on a baking sheet lined with parchment paper. Allow to dry for 30 minutes before eating.
Store covered in a cool, dry place. Do not refrigerate, or the candy coating will become soft.