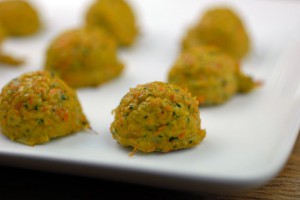 Real, great-tasting food. Nutritious. Quick cooking for busy people, families and new cooks. That's what we love about Dinner: The Playbook by Jenny Rosenstrach. When we told her we were entranced by her chicken parm meatballs she burst out with, "That's THE single most popular thing I've ever done." But that's not the only delicious eye-candy in her book, and I do mean candy.
If you have children, or, like us, you love meatballs, please don't miss these chicken meatballs sitting in a pool of jarred pizza sauce. A salad and you're good to go.

Preheat the oven to 400° F, setting a rack in the upper third of the oven.

In a large bowl, use your hands to gently mix together the chicken, bread crumbs, onions, parsley,Parmesan, garlic, fennel seeds, egg, lemon zest, and salt and pepper. Shape into golf ball-size balls and place a few inches from each other on a lightly greased foil-lined rimmed baking sheet. In a small bowl, mix one spoonful of your pizza sauce with the olive oil. Brush this mixture on top of each meatball. Bake for 15 minutes.

Remove the meatballs from the oven and turn on the broiler. Spoon some sauce on top of each meatball, and cover each with a slice of cheese. Broil for 3 to 5 minutes, until the cheese is bubbly and golden. Warm the remaining sauce in a small saucepan. Serve the meatballs with a dollop of sauce.