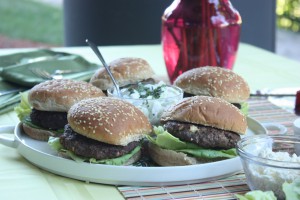 This is a decadent, filling burger. The combination of the sweet sun-dried tomatoes with the sharp, salty cheddar is heaven.

De-stem portabella mushroom and with a teaspoon carefully scrape the gill out and discard. Then chop mushrooms into very small dices to make about 2 cups. In a large mixing bowl combine chopped mushrooms, ground beef, chopped onion, cubed cheddar cheese, Worcestershire sauce and Tabasco and mix well.

Separate into 4 equal sized patties and season with salt and pepper. Grill to desired doneness.