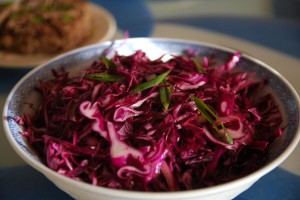 This is a tangy, crunchy, pickled cabbage that adds a bite and that little extra something to the sandwich. It takes common cabbage slaw to another level.

Put the cabbage into a 4-cup (1 liter) jar, packing it in as needed. In a saucepan, bring the salt, sugar, water, and vinegar to a boil, stirring to dissolve the solids. Remove from the heat, wait for the bubbling to subside, then pour into the jar. Tuck in the citrus peel. As the cabbage softens, use a spoon to push it down to immerse it all in brine.

Leave at room temperature, uncovered, to wilt the cabbage and cool. It's ready to use once cooled, but will develop more of a citrus edge if capped and refrigerated overnight. Store in the fridge for up to 2 months.