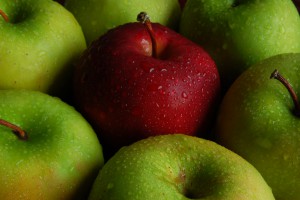 From Faith: What does a bartender do in a huge snowstorm with no ingredients for a cocktail? If that bartender is our contributor Anthony DeSerio, he starts scrounging and brainstorming. Now he's inspiring us, too.
Anthony was house-sitting at his sister's when the storm hit and wouldn't quit. After running around shoveling and buttoning up the place, he was desperate to relax with a drink, except there was little in the house.
"I found an apple, a lemon, and discovered a bottle of Tito's vodka in a cabinet," Anthony says. "I realized I could make it work when I opened the fridge and saw a bottle of sweetened iced tea."
Peel an apple, dice one quarter of it and put it in a shaker or jar with a lid, along with vodka and the juice from a half lemon. Smash the mixture with the back of a spoon and let the favors muddle for a few minutes.

Add ice cubes and sweetened tea to the shaker and shake vigorously until it's ice cold. Strain it into a glass, sit back and enjoy.