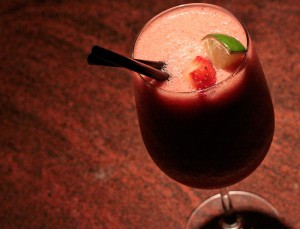 From Faith: Open your liquor cabinet and grab a bottle of your favorite spirit. Open the refrigerator and grab your favorite summer fruits. A little fresh mint and you have the makings of a fabulous frozen summer punch, thanks to our contributor, Anthony DeSerio.
The fresh fruit flavor of this punch will make your guest think you've gone to tremendous work, but this concoction is absurdly easy. All you do is make sugar water with fresh mint in it, add ice, fresh fruit (strawberries?), and a spirit (tequila, rum, vodka?), and you're ready to rock and roll.
Anthony came up with this because I asked him to give us something with herbs or fruit, a cross between a refreshing spa drink and a Big Chill party. We think it's a winner. You can scale this up to serve more people if you need to. Also, what guest doesn't feel cherished when the host is behind a blender serving fresh drinks?

Make a mint simple syrup in a measuring cup by combining the raw sugar with 1/2 cup of boiling water. Stir until the sugar melts and add fresh mint to taste. Allow it to steep until it reaches room temperature.

In your blender, add 4 ounces of your favorite spirit, 2 ounces of mint simple syrup, 1 ounce fresh lime juice, 8 fresh strawberries and a cup of ice. Blend until the mixture is nicely smooth. Pour into your favorite cocktail glass. Chill out!