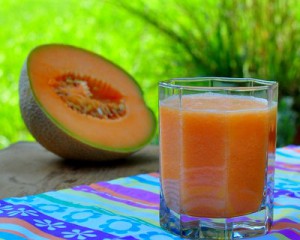 From Faith: Every so often, thanks to human creativity, cocktail-makers invent something new. That's what Anthony DeSerio did, with help from a chef he worked with years ago, who knew he'd come up with something original… The Mellini, as Anthony calls it.
What's truly original about this drink is that the liquid is made from the cantaloupe's seeds, not the fruit! When you blend those seeds, it produces a "milk," and that's the base of this cocktail. The actual fruit of the melon is a garnish only, an enjoyable one.
Remove the seeds from a cantaloupe (or honeydew) melon, and place in a blender along with the honey and water. Blend until pulverized and you have a pinkish creamy mixture. Strain through a fine strainer or cheesecloth and into a refrigerator-safe container.

In a champagne flute, pour 1.5 oz. of melon milk into the glass and top with chilled Prosecco. Garnish with a piece of melon fruit or a melon ball on a stick.
(If the mixture is too sweet for your taste, you can always add a squeeze of fresh lime juice.)