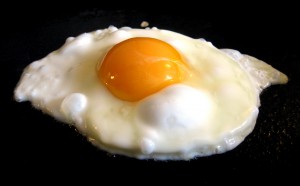 From Alex Province: This is the ultimate comfort food I enjoyed as a child while visiting my grandparents in Seville, Spain. Because she did not speak English (nor did I speak Spanish), my grandmother expressed her love for us through food. This recipe is one I learned from her and still cook today, only now I call it Huevos Fritos con Patatas Fritas (Fried Eggs with Fried Potatoes.)
The potatoes are cooked at a lower temperature than traditional French fries so as to absorb the gorgeous Spanish olive oil. The eggs, on the other hand, are flash-fried only long enough for the whites to have golden brown edges while the yolks stay slightly soft and runny. The idea is to serve the eggs on top of the pile of fried potatoes so that you can dip a fry into the yolk. Growing up, and now, we use chunks of fresh bread to mop up any remaining yolk or olive oil from the plate. Even writing these words, I have such fond memories of Abeula, in her apron, standing by the stove as she masterfully cooked this dish. I promise you it isn't hard; the only requirement is that you serve it with love.

Wash and peel potatoes and then carefully dry. Slice into French fry shape by cutting the potato lengthwise into ¼ inch slices and then laying each slice flat and cutting into ¼ inch sticks.

In a large frying pan heat enough olive oil over medium heat to just barely cover amount of potatoes you sliced. Once oil is medium hot, carefully add the potatoes and cook about 10 minutes and then flip the potatoes and continue cooking for another 10 minutes. (The goal is to cook the potatoes slowly enough so that the interior cooks through before the outside becomes too golden brown.) Remove onto a paper towel to drain, and immediately sprinkle generously with Kosher salt.

In a small sauté pan, over medium high heat, place enough olive oil to just barely cover the bottom of the pan. Once very hot, carefully crack the egg into the pan without breaking the yolk. Tilt the pan so the excess oil is collected to one side, and then use a spoon to ladle the oil back over top of the egg whites (this will cause the whites to become fluffy and golden brown). Immediately remove from the pan once the whites have cooked, and sprinkle generously with Kosher salt.

Plate the potatoes and eggs together and serve with fresh Italian or French bread.