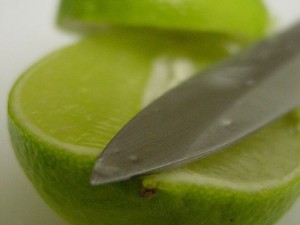 This soup is traditionally made with chicken stock, but here I used miso (fermented soybean paste) to give an intense flavor. Miso is like a vegetarian bouillon. Different types of miso range in strength and color
Light ones are young and mild, while darker misos, which have been aged longer, are saltier, richer, and more intense. In this recipe I call for a mellow white miso, which has only been aged for about four months. You can substitute a red miso (aged for six to eight months) to bring it up a notch. Anything darker would overpower the soup.

To prepare the broth, in a medium saucepan over high heat, combine 6 cups of water, garlic, and the cilantro stems and bring to a boil. Reduce the heat and simmer for 10 minutes. Strain out the solids and return the broth to the saucepan. Cover to keep warm.

Heat the oil in a large skillet over medium-high heat until you see the first whisp of smoke. Add the tortilla strips and fry until crisp, about 5 minutes. Remove the tortilla strips, drain on paper towels, and season lightly with salt.

Juice 1 lime and cut the other into wedges.

In a small bowl, toss the avocado pieces with the lime juice and set aside.

Add the broccoli, carrot, and jalapeno to the broth and simmer over medium heat for 2 to 3 minutes, until the vegetables are crisp-tender.

Place ½ cup of miso in a small bowl. Add a little of the hot soup broth and stir with a spoon until the miso becomes creamy. Transfer the miso to the soup and simmer for 1 minute. If desired, add more miso to taste. Stir in the chopped cilantro leaves.

Divide the tortilla strips and avocado among 4 soup bowls. Ladle the soup into bowls and serve immediately, accompanied by the lime wedges.