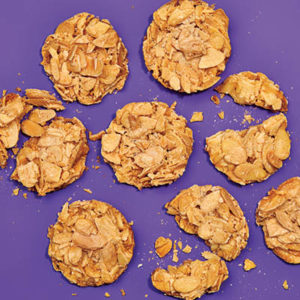 These have just three ingredients — sugar, sliced almonds and an egg — and no reason, other than a baker's faith, to turn into anything delicious. When a Parisian friend, Martine Collet, gave me the recipe, I kept asking if she'd forgotten anything. Maybe a little flour? Maybe a dab of butter? Nope. 1–2–3, and that's it. What you get are crisp, flavorful caramel-almond wafers.
ON-DEMAND: Listen to Faith and Dorie talk about this cookie recipe as well as several other cookie recipes from Dorie's book on The Faith Middleton Food Schmooze.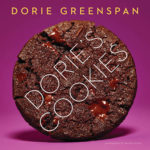 Excerpted from Dorie's Cookies, published by Rux Martin/Houghton Mifflin Harcourt. Copyright © 2016 Dorie Greenspan. Photographs © 2016 Davide Luciano and Claudia Ficca.
Position the racks to divide the oven into thirds and preheat it to 325 degrees F. Depending on how you want to make these, generously spray two regular muffin tins (make sure you're using baker's spray) or line two baking sheets with parchment paper or silicone baking mats. Have a small cookie scoop or a teaspoon at hand.

Whisk the sugar and egg together in a bowl for a minute or so, until well blended and just a bit thick. Add the almonds and whisk until evenly coated with the mixture. You need to use the batter right away — it separates as it stands. In fact, it's good to give the batter a stir or two as you're spooning it out.

Each cookie needs 2 teaspoons of batter. For muffin tins, use your fingers to spread the batter evenly over the base. For free-form cookies, scoop the batter onto the baking sheets, leaving at least 2 inches of space between the mounds of batter, and flatten each mound with the back of a fork.

Bake the muffin-tin cookies for about 17 minutes and the baking-sheet cookies for about 20 minutes, rotating the pans midway through baking. The cookies should be toasted-almond beige, and dry and crackled on top. Transfer the baking sheets or tins to racks and let the cookies cool for about 10 minutes.

To remove the cookies from the muffin tins, work a blunt knife around each cookie, then slip the knife under, tilt it and pop the cookie free. Or carefully lift the free-form cookies with a wide spatula.
If your kitchen is cool and dry, you can keep these in a tin or paper bag overnight. Keep them longer, and they might soften, a condition easily reversed: Place the cookies on a lined baking sheet and warm them in a 350-degree-F oven for about 6 minutes; cool on the sheet.