Podcast: Play in new window | Download (Duration: 50:24 — 46.3MB) | Embed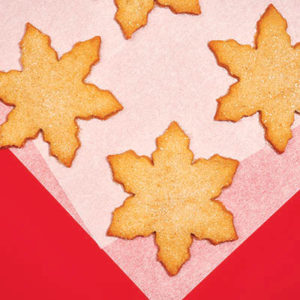 The one and only Dorie Greenspan joins the party to talk about her new book, Dorie's Cookies, and share recipes for cookies you'll want to make for Christmas AND Hanukkah (Hello, chocolatey little Matzo Morsels). Plus, Anthony DeSerio's Prohibition Eggnog. Make an entire punch bowl, people! Guests love it. Alex Province fills our glasses with an opulent stunner: a red Chateauneuf du Pape and Yankee magazine's Amy Traverso shares her recipe for Pear, Walnut & Gorgonzola Puffs and the perfect holiday side as well as a sweet stocking stuffer from Yankee's 2016 food awards.
Aired: December 22, 2016
Photo: © 2016 Davide Luciano and Claudia Ficca.
CONTRIBUTORS AND GUESTS:
• Chris Prosperi — chef/owner, Métro Bis in Simsbury, Conn.
• Alex Province — wine expert
• Dorie Greenspan — author of Dorie's Cookies
• Amy Traverso — food editor, Yankee magazine
MUSIC:
• "Can't Stop the Feeling," Justin Timberlake
• "Christmas Cookies," Loose Cattle
• "Beans and Cornbread," Louis Jordan and The Tympany Five
• "Who Spiked the Eggnog?," Straight No Chaser
• "Blame it on the Eggnog," Kevin Afflack
• "Everybody Eats When They Come to My House," Cab Calloway