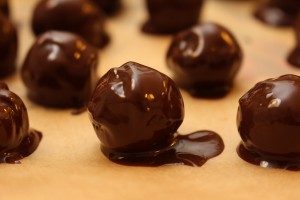 It's a fact; regrettable, but a fact, nonetheless. Some people are not aware that the Thanksgiving or holiday table must have at least one taste of chocolate, even if it's a chocolate bar broken up into pieces and put on a plate. As a matter of fact, put an unopened bag of Valrhona or Ghirardelli dark chocolate chips on a plate, and I'd be delighted. That's why we snapped to attention when we saw this easy and fun recipe for chocolate roses in Dorie's new book, Baking Chez Moi. Call the kids, because it involves cornflakes.
In France, a version of these is called "Desert Roses," and that's the name Dorie uses in her book. This is so easy, tastes delicious, and the texture is just what it should be. As Dorie says, the idea is to have fun with it. Use the dried fruits you or your loved ones adore.

Servings:
40 mini candies
Line a baking sheet with parchment or wax paper, a silicone baking mat or aluminum foil. If you'd like to scoop the roses into paper liners or mold them into circles, have the liners or pancake rings at hand. I use a medium cookie scoop (one with a capacity of 1½ tablespoons) to shape the roses, but they're perfectly spoonable—neatness and uniformity mean nothing here.

Put the butter in a heatproof bowl set over a saucepan filled with a few inches of simmering water. Cover the butter with the chopped chocolate and heat, stirring occasionally, until the chocolate and butter are melted, thick and creamy; you don't want to heat the butter and chocolate so much that they separate.

Toss the rest of the ingredients into a large bowl and stir them around, then pour over the hot butter and chocolate. Gently mix everything together. Some of the cornflakes will break, but keep stirring until all is coated in chocolate.

Scoop or spoon the mixture onto the prepared baking sheet or into the paper liners. Alternatively, you can press the mixture into pancake rings, so that you've got little pucks. Of course, the number of roses you'll get will depend on the size of your sweets.

Slide the sheet into the refrigerator and chill until set, about 30 minutes.