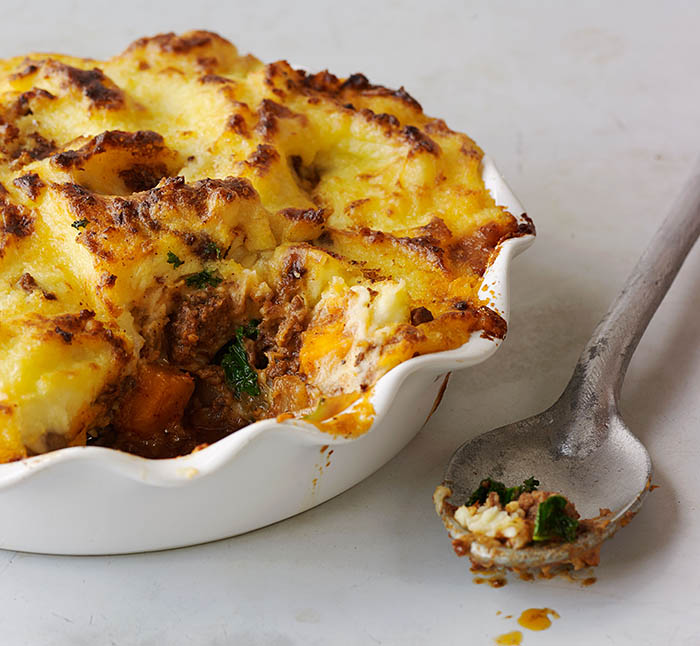 There's a lot of fancy food in this world, and then there's shepherd's pie, a rustic hodgepodge often made with leftovers, seldom made the same way twice and always satisfying. For this version, one that's been on my favorite shepherd's pie list for a while now, I start from scratch with sausage and ground meat. I often use turkey, but chicken, lamb and beef are all good. It's the herbs and spices that make this one Mediterranean. The potatoes could just as nicely be sweet potatoes, and I like to cook butternut squash into the filling (so easy — you can buy it already peeled and cubed, fresh or frozen) because I like its sweetness with the spices.
A shepherd's pie is a one-dish meal and not a light one, so I serve a leafy salad alongside, or even on top of it. Add a little extra mustard or vinegar to your favorite dressing — it's nice to have a bit of bite and tang to go with the pie's slight sweetness.
—Dorie Greenspan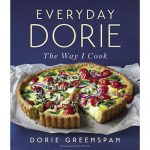 MEDITERRANEAN SHEPHERD'S PIE is excerpted from Everyday Dorie © 2018 by Dorie Greenspan. Photography © 2018 by Ellen Silverman. Reproduced by permission of Rux Martin Books/Houghton Mifflin Harcourt. All rights reserved.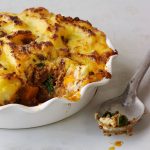 Drop the potato chunks into a large pot of cold salted water. Bring to a boil over high heat and cook until the potatoes mash easily when pressed against the side of the pot, 15 to 20 minutes.

Drain the potatoes, put the empty pot back over medium heat, return the potatoes to the pot and cook, stirring and turning them, for about 1 minute, until they are dry. Spoon the potatoes into a food mill or ricer set over a bowl and run them through it. (Of course, you can mash the potatoes with a fork, but a mill or ricer will make them fluffier.) Stir the butter and ¼ cup of the milk or cream into the potatoes, along with ample salt and pepper, and taste them — add more of whatever you think they need. Set aside.

Center a rack in the oven and preheat it to 375 degrees F. Put a deep-dish pie plate (or an ovenproof casserole with a capacity of about 2 quarts) on a baking sheet lined with parchment paper or foil.
Put a large skillet over medium heat, add 1 tablespoon of the oil and when it's hot, add the ground meat and sausage. Cook, stirring and pressing the meat with a wooden spoon to break it up, for about 2 minutes; as you're cooking, drizzle in up to 1 more tablespoon of oil if you think you need it. Then add another tablespoon of oil, along with the onion and garlic, season with the salt and a few grinds of pepper and cook over low heat until the onions soften, about 10 minutes.

Add the chicken broth, turn the heat up a little and use the spoon to scrape up any browned bits stuck to the bottom of the skillet. Stir in the spices and cook for a minute, then add the crushed tomatoes and bring to a gentle simmer. Scatter over the pieces of squash, cover the pan (with its lid or a baking sheet) and cook over low heat until the squash is fork-tender, about 20 minutes. Stir in the kale or spinach and taste for salt and pepper. (You can make the filling up to 2 days ahead and keep it tightly covered in the refrigerator.)

Spoon the filling into the pie plate, adding enough of the liquid in the pan to come up and around the edges of the mix. (There's usually just the right amount left in the skillet. My own preference is to go for juicier rather than drier.) Top with the potatoes, smoothing them over the filling or making swoops and swirls out to the edges of the pie plate. (At this point, the pie can be refrigerated until cool, wrapped airtight and frozen for up to 2 months.) If you'd like, dot the top of the potatoes with the butter or brush them with a little olive oil.

Bake the pie for 30 to 40 minutes, until the filling is bubbling and the potatoes are browned here and there. If you'd like to get them crusty brown, run them under the broiler. Serve immediately, preferably in shallow soup plates.
WORKING AHEAD: You can make the filling up to 2 days ahead and keep it refrigerated, covered. Alternatively, you can assemble the pie, freeze it for up to 2 months and bake it straight from the freezer. To do this, preheat the oven to 350 degrees F and count on it taking about 1 hour to heat through. If the potatoes brown too much before the liquid starts to bubble, tent the pie loosely with foil. I like to get the potatoes going while I'm working on the filling. If you'd prefer, make the filling first. Either way, keep in mind that the potatoes will be easier to spread over the filling if they're warm.
STORING: You can keep leftover pie covered in the refrigerator for up to 2 days. Reheat, covered, in a conventional or microwave oven.
CHOICES: You can use turnips or green peas instead of the squash, or just skip the extra vegetable. You can also forgo the potatoes and the pie part of the dish entirely — the filling is so fragrant, tasty and chunky that you might want it just the way it is. Pull out a bun and make a sloppy Joe, or grab a wedge of cornbread and smother it with the juicy meat. If you plan ahead, you can make some rice or a pot of beans and use the filling as a spoon-over.
ONIONS, SHALLOTS AND GARLIC: To help get all the good flavor from onions and shallots, I take a quick extra step at prep time. After I've sliced or chopped them, I rinse them under cold water and then pat them dry. The short rinse washes away the bitter liquid that's drawn out when you cut them. If I'm using the onion (or shallot) raw in a salad, I sometimes rinse it and then let the slices sit in a bowl of cold water — the chill gives them added crunch. Unless I'm using whole garlic cloves, smashed or otherwise, I always cut each peeled clove in half the long way so that I can chisel out the green germ that runs the length of it. I learned this trick years ago when I was working with the chef Daniel Boulud, who had learned it years before when he was an apprentice in France. Removing the germ tones down garlic's brashest flavors, and it may make the garlic more easily digestible — the jury's still out on that.
SUMAC: A tangy spice, ground sumac has a flavor reminiscent of lemon. You can find it readily in shops specializing in foods from the Middle East. If you don't have sumac, substitute freshly grated lemon zest.
ZA'ATAR: A blend of dried thyme, oregano and marjoram, sometimes mixed with sumac and roasted sesame seeds, za'atar is a popular Middle Eastern seasoning. If you don't have za'atar, you can substitute ground thyme, oregano or marjoram, or a mix of these herbs, and add sesame seeds or not.
HARISSA: A ferociously hot North African spice blend, harissa can be bought as a ground spice mix or as a paste in tubes, cans and jars. Chiles, primarily red ones, are the most important and abundant ingredient, but they're blended with garlic and other spices (like cumin and coriander) and, in the case of the pastes, oil. If you buy harissa powder, you can mix it with oil or water to make a paste. Harissa powders and pastes vary from brand to brand. I find the most variation in the pastes — some are stronger, some are sweeter. If harissa interests you, search for your favorite. Instead of harissa powder, you can use chile powder. For the paste, substitute your favorite hot sauce, Thai red chili paste or sambal oelek.