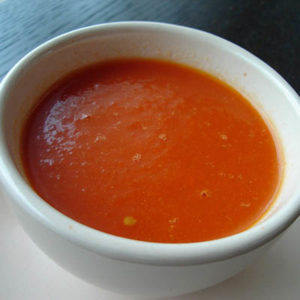 Fresh vine ripened tomatoes are ages away and forget about finding anything resembling a fresh cucumber, but worry not. Here is a comforting warm and delicious twist on an old summer favorite using ingredients you can easily find at your grocery store in the middle of winter. Inspired by my Spanish grandfather, it is sure to have you dreaming of the lazy, dog days of summer!
— Alex Province
Photo: Pixabay.com
On a baking tray, toss garlic, onion, potato and red pepper with the 2 tablespoons of olive oil and salt. Roast in a 350 degree oven for 30 minutes.

Carefully transfer the hot roasted vegetables and canned tomatoes into a blender and pulse until just smooth.

Now with blender running, slowly drizzle in 1/4 cup olive oil and vinegar. Blend until oil is emulsified-about 20 seconds.

Add more salt if needed and if you have them, this is nice with crispy warm croutons.