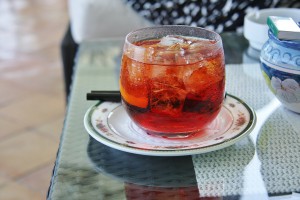 From Faith: When I was in the city of Nice, one of my favorite places in France, the delicious Negroni cocktail was the thing to drink on ice, especially staring out over the sun-drenched boardwalk adjacent to an aqua sea. Our show cocktail guy, Anthony DeSerio, sweetie that he is, came up with this terrific twist on the classic Negroni. Knowing how much I like fizz, he created The Sparkling Negroni for me. Thank you, Anthony!
This easy cocktail is a combination of sweet and bitter flavors, a balance of yin and yang that explains why this drink is considered a classic, embraced decade after decade. That modern splash of sparkling soda makes this drink pretty fabulous.

In a rocks glass filled with ice, add all three ingredients. Stir, serve and enjoy!
(Please Note: This recipe calls for Bitter Lemon mixer from the Fever Tree Company. It's worth finding it at a nearby liquor or gourmet store, but call ahead to avoid a wasted trip. For vodka or gin tonics, Fever Tree mixers are tops.)