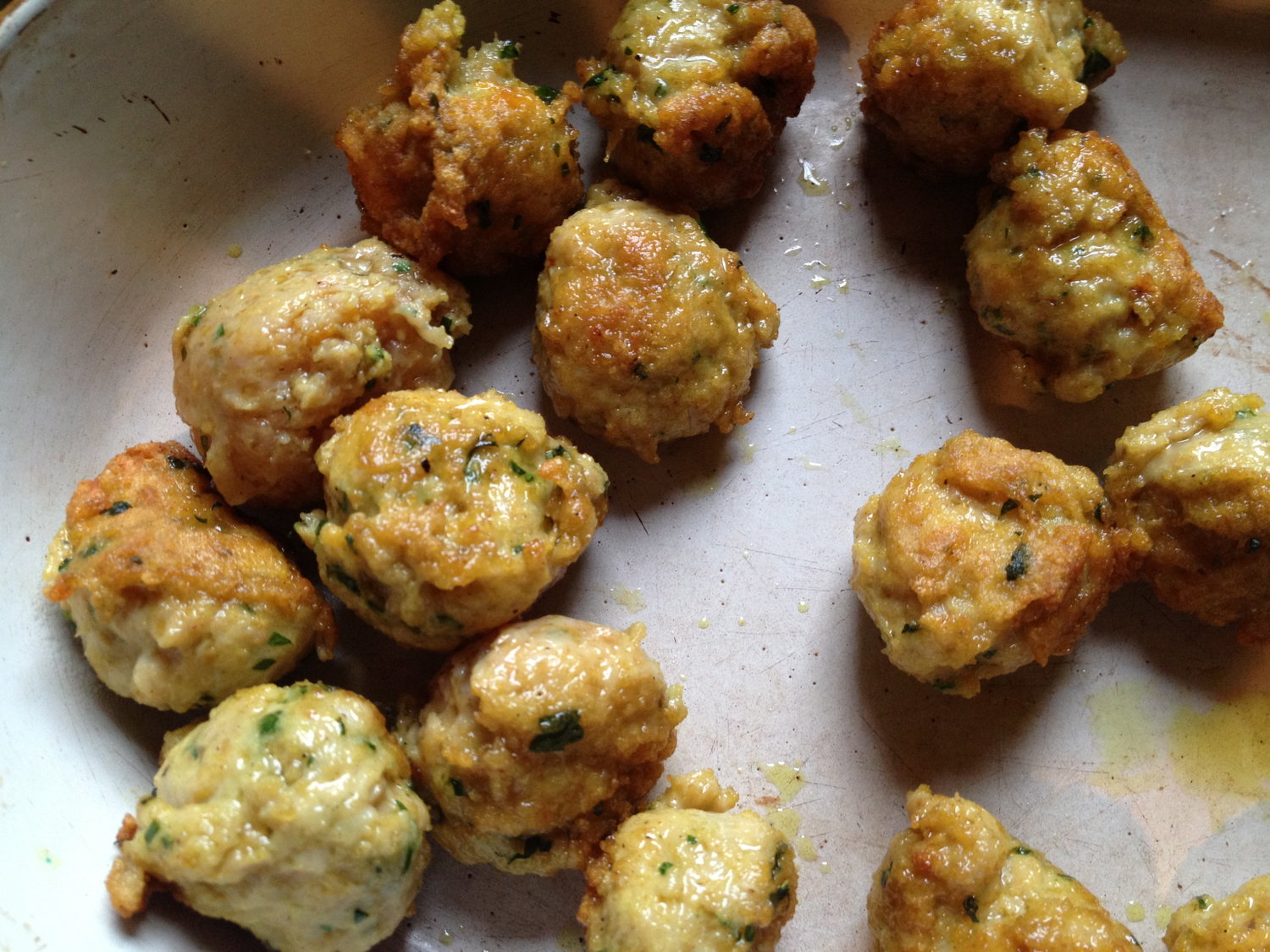 These are super in the Wild Rice Soup, on top of pasta, or taken straight by the toothpick, fork, or weary hand—possibly dipped, possibly neat. These meatballs represent all the nourishment needed to keep a weary person sustained in one tiny, savory package.
— Janet Reich Elsbach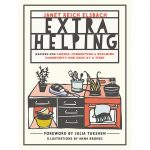 From Extra Helping by Janet Reich Elsbach © 2018 by Janet Reich Elsbach. Illustrations © 2018 by Anna Brones. Reprinted in arrangement with Roost Books, an imprint of Shambhala Publications, Inc.
Image: courtesy of Janet Reich Elsbach, from her blog, A Raisin + a Porpoise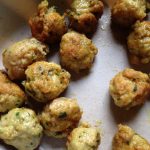 Servings
50-60
tiny meatballs
Servings

50-60

tiny meatballs
Very finely chop the greens; you should have about 2 cups. Separately, finely chop the onion. You can do this in a food processor with a series of pulses; just watch carefully that you don't puree them.

In a large bowl, mix the ground chicken with the minced greens, onions, breadcrumbs, egg, herbs, cumin, coriander, cayenne, turmeric, salt, and pepper until well combined. Cover and refrigerate for at least 10 minutes (and up to 1 hour), to allow the moisture in the ingredients to equalize.

Use a pair of teaspoons (or a tiny ice cream scoop—I love any excuse to use my tiny ice cream scoop) to form meatballs about the size of grapes or cherry tomatoes—as small as you can bear to fuss with, remembering that they will shrink a bit as they cook. I like to get at least 50 of them out of the mixture if I can maintain the necessary patience.

Heat 1 tablespoon of the oil in a heavy skillet set over medium heat until it ripples. Working in batches, cook the meatballs for about 7 minutes total, shaking the pan around so the little fellows get tossed and all sides get nice and toasty golden.

Remove each batch to a heatproof dish as they are done, to await their further deployment. Add more oil to the pan as needed. They can be held at room temperature for up to 4 hours, or (once cooled) refrigerated in a covered container for up to a week. You can also freeze the cooked meatballs for up to a month.