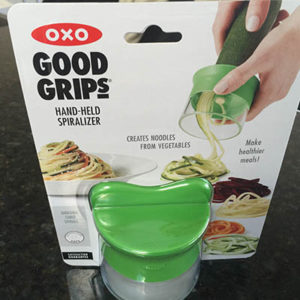 We kept saying we don't need a spiralizer, the little hand-held device you twist to turn a variety of vegetables into faux pasta noodles. We said that until we tried an inexpensive spiralizer from Oxo and in two minutes made long thin curly strands of zucchini. Looked like pasta. With the sauce, tasted like pasta — delicious and delightfully low-cal. Here's Faith's favorite vegetable 'spaghetti,' of the moment. Feel free to jack up the flavor of any element you particularly love. That's how you make a recipe yours.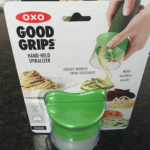 Use a spiralizer or your favorite device to turn the zucchini segments into vegetable noodles. Set aside.

Heat the olive oil in a large frying pan on medium heat, add the garlic and cook gently for about two minutes, taking care not to burn the garlic. Stir in the zucchini noodles and the hot pepper and cook for 3 minutes, until the noodles are tender. Mix in the crab, lemon zest, juice and mint, toss it all together gently and season with pepper. Taste it to see if you'd like to add more lemon or hot pepper or salt. Serve and enjoy.
If you're a wine drinker, this dish would be terrific with chilled white Gruner Veltliner, a dry reisling, or prosecco.