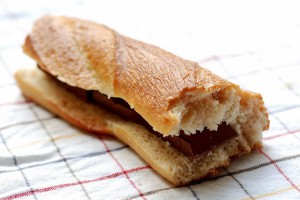 When friends stop by, I am never without dessert. I always have a frozen baguette and chocolate on hand, and that means dessert is minutes away.
After defrosting the bread in the microwave, I slice the baguette horizontally, and top the halves with my favorite dark chocolate chips (Valrhona or Ghirardelli), a touch of olive oil, and a sprinkle of sea salt.  Into the oven it goes, and in a snap, out comes one of the best chocolate feasts on the planet, loved by grown-ups and kids alike. Watch their eyes grow wide when this platter hits the table!
In grill season, I toast the baguette halves first on the grill, add the topping to each half, and close the grill lid for a minute or two until the chocolate melts.
You can make this on any "raft," by the way, including one that is gluten-free. It all depends what you have on hand or crave—saltines, Glutinos (gluten-free crackers), Matzoh, sliced white bread, or crêpes.

The grill method you know from the instructions above. For the oven, turn on the broiler for 5 minutes to preheat it.

Slice a whole baguette thin (about 15 slices). Spread the plain slices out on a baking sheet and broil them until golden. Watch carefully; they should be done in 30 seconds.

Turn the slices over, sprinkle on some chocolate chips, and broil until the bread is golden and the chocolate gets melty.

Arrange the slices on a platter, drizzle with a touch of extra virgin olive oil, and a sprinkle of sea salt.
On occasion, just to change it up, I serve ice cream on the side. I love Talenti Belgian Milk Chocolate or Butter Pecan with this; it's now available in most supermarkets. For a dinner party, or if you feel like fancying it up, you could put out some bowls of dried cherries, cranberries, and toasted coconut.