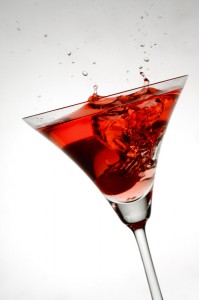 You know me—I love easy, delicious cocktails, and I have a festive seasonal sparkler this time to get your Thanksgiving rolling. Pair together cranberry juice, vodka and champagne, and your guests will be having too much fun to notice you forgot to defrost the turkey. Serve your drinks in chilled martini glasses; simply run your glasses under water, then pop them in the freezer for an hour or two, pulling each one out as you pour from your cocktail pitcher. Then you top off each glass with a splash of champagne, or an affordable dry sparkler, like a Spanish cava.
I'll give you the ingredients for one drink; increase the amounts to suit the number of guests you're serving.

Put martini glasses in the freezer for 1–2 hours.

In a pitcher, mix together lots of ice, and all the ingredients except the sparkling wine and fresh cranberries. Stir and stir so that it's fiercely chilled.

Remove chilled martini glass from the freezer and fill it (no ice), leaving room to top off each drink with 2 ounces of champagne or an affordable sparkler of your choosing. Pop a fresh cranberry into every glass.