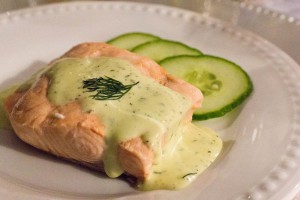 If you've eaten a velvety salmon and wondered how it's done, wonder no more. Now you can easily do it at home by steaming your salmon in an aluminum foil pouch in the oven. And what's more, we're providing you with what I call Lucinda's Razzle Dazzle Green Sauce to drizzle on.
The recipe comes from our returning guest on The Faith Middleton Food Schmooze, Lucinda Scala Quinn, executive food editor of Martha Stewart Living. Her new cookbook, Mad Hungry Cravings, is based on the idea that we should make what we crave and dive in with gusto, instead of thinking it will take forever, or it's easier to just order in. She says, go ahead, order a pizza, and while it's being made and delivered, open a can of tomatoes for tomato soup, and make a hearty grilled cheese sandwich. Lucinda bets you'll be done before the pizza arrives, and our soup and sandwich will taste just as good and will be healthier.

Recipe from Mad Hungry Cravings by Lucinda Scala Quinn, published by Artisan 2013.
Recipe from Mad Hungry Cravings by Lucinda Scala Quinn, published by Artisan 2013.
Preheat oven to 375°F with a rack in the upper third position. Season the salmon with the salt and white pepper. Place on a large piece of foil and close to make a loose-fitting, tightly sealed package.

Put the salmon on a baking sheet and cook for 20 to 25 minutes, until the fish is still slightly rare in the center (it should be only slightly resistant to the touch). Carefully open the foil and let the fish rest for a few minutes. Or let cook completely and chill before serving.

Meanwhile, combine the mayonnaise, lemon zest and juice, scallion, caper, dill, and parsley. Season to taste with salt.

Cut the fish into 4 pieces and serve with a dollop sauce on the side.