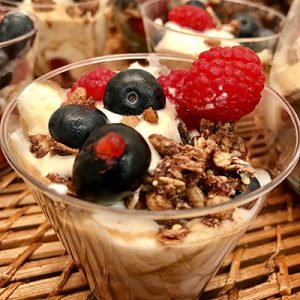 We enjoyed these sweet parfaits for dessert after a light Mediterranean-inspired lunch, but we could easily see them as a satisfying breakfast, too. Make mini-versions in glasses or clear plastic cups for a brunch or shower.
Anyone can pull together this no-cook treat. The recipe is an example—created by the nutrition team at the Hartford HeathCare Bone & Joint Institute at Hartford Hospital—of how you can eat sensibly and healthfully without depriving yourself. . .or skipping dessert.
• ON-DEMAND: Listen to Faith and the gang rave about this dish during their conversation with Dr. Cortland Lewis, Physician-In-Chief at the Hartford HealthCare Bone & Joint Institute at Hartford Hospital. •

First, pour the yogurt into a bowl. Then add the cream and vanilla. With a whisk, carefully stir until combined. It should be nice and thick.

Sprinkle the brown sugar evenly over the top of the yogurt mixture. Do not stir the mixture. Cover the bowl with foil or plastic wrap and tightly seal he edges. Place in the refrigerator for at least 20 to 30 minutes.

When you are ready to serve, place a small handful of berries (or other fruit) into a bowl or cup, followed by granola. Without stirring the mixture, spoon the yogurt over the berries/granola. There will be creamy areas and brown sugar areas. Repeat the layers once, ending with berries on top.