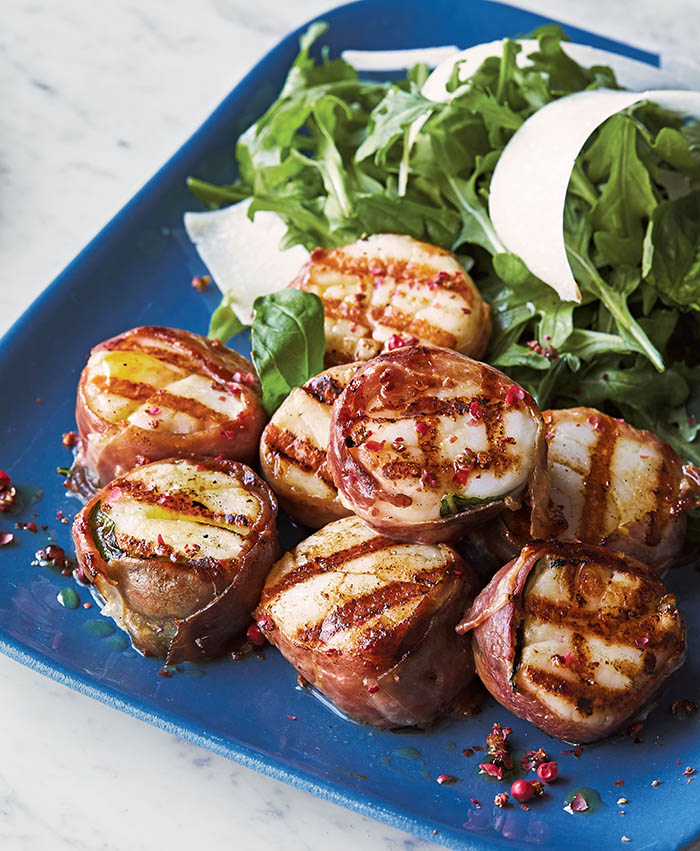 My friend Pam makes these pretty skewers on the grill at her beach house on Long Island. Pink peppercorns make them beautiful and summery—as if you're eating a spicy rose petal. You could serve this with (or atop) an arugula salad. Add a squeeze of juice from a grilled lemon half if you like.
— Giada De Laurentiis
• ON-DEMAND: Listen to Faith's conversation with Giada during a special edition of The Faith Middleton Food Schmooze® recorded on location in Madison, Connecticut, thanks to R.J. Julia Booksellers. •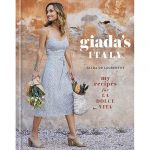 Excerpted from Giada's Italy: My Recipes for La Dolce Vita. Published by Clarkson Potter Publishing, an imprint of Crown Publishing Group, a division of Penguin Random House, LLC. © 2018 by GDL Foods Inc. Photo by Aubrie Pick.

Cut the prosciutto slices in half lengthwise to make 12 long strips. Season the scallops evenly with the salt. Place 1 basil leaf at the end of a strip of prosciutto, folding it in half lengthwise, if necessary. Place a scallop on its side on top of the basil and carefully roll the scallop inside the basil and prosciutto. Secure with a toothpick or skewer. Repeat with the remaining ingredients.

Drizzle the scallops with the olive oil. Place the scallops on the heated grill pan, pressing down gently to make sure the scallops make direct contact with the hot surface. Grill for 2 to 3 minutes per side, or until nice grill marks form and the scallops are just warm in the center (see Cook's Note below). Remove the scallops to a plate and sprinkle with the pink peppercorns.
COOK'S NOTE: To check if the scallops are done, simply insert a thin metal cake tester into the center and leave it there for 10 seconds. Remove and place the metal against the skin beneath your lower lip. If the tester feels warm, the scallop is done.
Preheat a grill pan over medium-high heat.