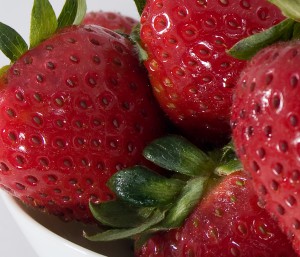 On the weekends I hang out quite a bit at The Orient Country Store on Village Lane in Orient, New York, one of the most charming streets in America. At the market, after saying hello to the amiable hosts, you have to steel yourself to walk past the line-up of Miriam Foster's exceptional baked goods displayed on the old wooden counter—the salty oatmeal cookies, the dark chocolate brownies, coconut macaroons with a beautiful crispy char, her unforgettable ginger snaps, muffins, and the amazing brown butter spice cake, which turns out to be gluten-free.
The thing that nobody says about gluten-free baked goods is that they should fool you into thinking they're not gluten-free—they should taste as good as what they're replacing. Miriam's Brown Butter Spice Cake is heaven itself, nutty and luscious from the brown butter, and studded throughout with tiny bits of ground almonds. Since we had just made a bowl of strawberries mixed with honey and a little lemon juice, we spooned it over Miriam's cake, and we were speechless from pleasure. This accident of fortune produced the best strawberry shortcake of our lives. Can you imagine it with a dollop of whipped cream?!
We called Miriam instantly, and with the kind of witty generosity that is typical of her, she agreed to share her recipe with all of us. Whether you use it as a base for strawberries, or just to nosh on with glee, you'll be as happy as it is possible to be. Don't be surprised if your friends beg you for the recipe. Send them straight to us. Thanks, Miriam. Crank up the oven.

To make the cake, preheat the oven to 400° F. In a large skillet over medium heat, melt the butter. Continue to let the butter cook until the white milk solids fall to the bottom of the skillet and turn a rich hazelnut brown and the aroma is nutty. Set aside to cool.

Sift together the confectioners' sugar, almond flour, cake flour, nutmeg, and cardamom. Place the sifted ingredients in the bowl of an electric mixer fitted with the whisk attachment. On the lowest speed, add the egg whites; mix until all the dry ingredients are moistened. Increase the speed to medium and beat until very smooth. Decrease the speed to low and stir in the browned butter, then increase the speed to medium and beat until smooth.

Butter a 10-inch tart pan or a 9-inch loaf pan. Pour in the batter and smooth the top. Bake for 25 to 30 minutes, or until the cake is golden brown and a cake tester comes out clean. Cool for 10 minutes in pan, then turn out cake onto a wire rack and cool completely.
Easily add fruit at bottom of pan (berries, apple pieces, pear slices, peach, etc.) or arrange on top once cake is baked and cooled.