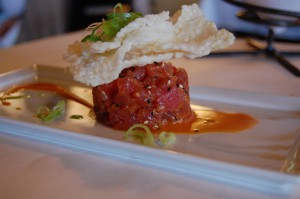 Having calorie-light food doesn't mean you have to be unhappy; that's why we've chosen this mouth-watering fresh tuna tartare featured in the Slanted Door cookbook by owner and chef Charles Phan. One of the leading lights of San Francisco's culinary scene, The Slanted Door is a must-go restaurant. (When she led a food tour of WNPR listeners to the Pacific Northwest, Faith insisted on a group stop at The Slanted Door; it was remarkable).
What's interesting about this tuna tartare recipe is that it's not a ceviche, which uses citrus juice to "cook" the fish chunks; instead chef Phan recommends this version, more like a Hawaiian "poke" that calls for soy sauce rather than citrus. It's heavenly. You feel like lifting weights when you're done.

If using sesame crackers, add about an inch of oil to a large, shallow saute pan and set over high heat until it registers 350 F on a candy thermometer. Use tongs to place one sesame cracker sheet in the oil and fry for about 30 seconds; the cracker will puff up. Remove from the oil, place on a plate lined with a paper towel, and let cool. Repeat with the second sheet. Once the sheets are cool, break them into large pieces. Set aside.

To make the tartare, combine the tuna, cucumber, and shallot in a medium bowl and set aside. In a small bowl, combine the sesame oil, soy sauce, Sriracha sauce, and olive oil and stir to combine. Season to taste with salt.

Pour the marinade over the tuna and mix gently. Garnish with the cilantro and serve with the fried sesame rice crackers or shrimp chips.