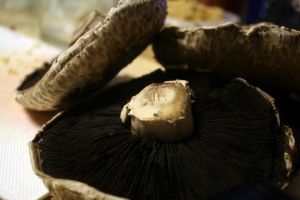 If you're gluten-free, you're all set with this burger, because you can use the big portobello caps as the bread slices. No matter how you have it, we thought it was delicious. Make it on the grill or in the oven.

Preheat grill to 300° to 350° (medium) heat.

Remove stems from mushrooms. Using a spoon, scrape and discard brown gills from undersides of mushrooms, leaving edges of caps intact. Brush tops lightly with oil, and set aside on a platter, oiled sides down.

Mix together shallot, breadcrumbs, sage, salt, pepper, and nutmeg in a medium bowl. Add turkey and knead together just until seasonings are evenly distributed. Dived turkey mixture among mushroom caps.

Place mushrooms, filling sides up, on grill. Close lid (or cover with tent of aluminum foil), and cook 10 to 12 minutes or until turkey is cooked through to center.

Top with cheddar; cover and cook until cheddar is melted, about 2 minutes. Garnish with fresh sage leaves, if using.
For something different:
To make these in the oven, first broil mushroom caps on a rimed baking sheet 3 to 5 minutes or until just tender. Reduce heat to 400°, and bake filled mushrooms on middle rack of oven about 15 minutes or until turkey is cooked through. Top with cheddar, set oven back to broil, and broil 2 minutes or until cheddar is melted.