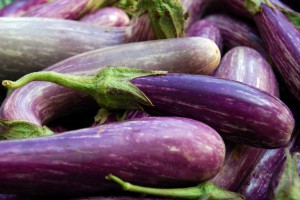 Even people who aren't interested in vegetables like them when they're done Michele Scicolone's way—tossing them in an olive oil, garlic and herb mixture before grilling. What I love about this easy recipe is that you taste the vegetables, yet the dressing enhances all the flavors. Let's face it, you can't go wrong starting with olive oil and garlic, and then fresh thyme and parsley get tossed in. Go ahead, try it on the kids; slip some onto burgers, or use theses veggies on top of pasta with a little grated cheese at the end. Use whatever vegetables are in season, or whatever ones appeal to your taste. (As Michele says, you could use scallions, asparagus, bell pepper wedges, fennel, and radicchio.) If I have guests who don't mind a little zip, I sometimes put out a small dish of red pepper flakes, and one with canned anchovies I've melted beforehand in a saute pan.

Preheat a barbecue or stovetop grill until very hot.

In a small bowl, stir together ¼ cup of the oil, the garlic, parsley, thyme, and salt and pepper to taste. Set aside.

Brush the vegetables on both sides with the remaining ¼ cup olive oil. Grill (in batches on the stovetop) until browned on the first side, about 5 minutes. Turn the slices and cook until browned on the second side and tender, about 5 minutes more.

Arrange the eggplant and zucchini on a platter, overlapping slightly. Separate the onion into rings and scatter them over the eggplant and zucchini. Drizzle with the dressing.

Serve hot or at room temperature.