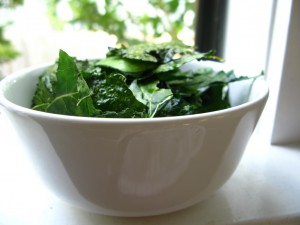 I start prowling around 9 p.m., like a leopard in search of prey; if I'm not mindful, I can run into dangerous opportunities. I try to have some great late-night snacks at the ready, especially on weekends, when I tell myself sensibility is a fool's errand, that I deserve something delightful. And this is why I'd like to salute Fine Cooking, a national magazine based in Connecticut.
I salute them because they introduced me to a simple snack that makes me feel I'm getting away with delicious murder, Crispy Kale Chips with Toasted Lemon Zest. Know this: I'm a potato chip nut, and I don't need them after trying a bowl of these little marvels. Instead, I luxuriate in my heart-healthy late-night indulgence. And then I think about making more.

Position a rack in the center of the oven and heat the oven to 375°F.

Pile the kale on a large rimmed baking sheet. Toss with the olive oil and vinegar. Sprinkle the lemon zest over the kale and then season very lightly with salt.

Spread the kale evenly on the baking sheet and roast until it has begun to steam and dry out around the edges of the leaves, about 5 minutes. Using tongs, toss the kale, keeping it evenly distributed, and rotate the baking sheet to ensure even cooking. Continue to roast until the kale is dark green and shatteringly crisp, 7 to 10 minutes more. Some of the edges may begin to brown. Serve hot or at room temperature soon after roasting.