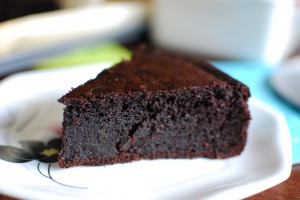 As soon as we spotted this recipe in Ina Garten's new book, Make It Ahead, we raced to it. Her desserts are always delicious, in our experience, and here is one that solves the problem if you have gluten-free eaters at your table. Ina uses renowned chef Thomas Keller's gluten-free flour mix, called Cup4Cup. She says it's "pure genius." All we know is that our friends who are now making this say the cake is crazy good, gluten or no gluten.

Preheat the oven to 425° F. Grease an 8-inch spring-form pan and line the bottom with parchment paper.

Place the one pound of chocolate in a large heat-proof bowl set over a pan of simmering water and stir occasionally until the chocolate is melted. Off the heat, immediately stir in the butter, flour, sugar, coffee granules, and salt with a rubber spatula. Whisk in the egg yolks until smooth.

Place the egg whites in the bowl of an electric mixer fitted with the whisk attachment and beat until they form soft peaks. Scrape the egg whites into the chocolate mixture and fold them in very carefully with a rubber spatula, just until combined. Scrape the mixture into the prepared pan, smooth the top, and bake for 15 minutes exactly. (Be sure your oven temperature is accurate!)

Turn the oven off and leave the cake in the oven, leaving the door slightly ajar. Allow the cake to cool in the oven for 1 hour. The cake will sink in the middle.

Carefully release the sides of the pan and slide the cake onto a flat serving plate or cake stand. Place the 3 ounces of chocolate and the heavy cream in a heat-proof bowl set over a pan of simmering water and heat just until the chocolate melts, stirring occasionally. Add a drop of cream if the mixture is too thick to pour. Pour the chocolate onto the sunken part of the cake, leaving the edge unfrosted. Allow to cool and serve warm or at room temperature with a scoop of ice cream.