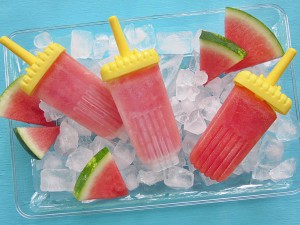 From Faith: I know and fully appreciate how lucky I am—that I can call up our frequent contributor, Connecticut bartender Anthony DeSerio, and request that he make whatever's floating around in my imagination. This time, boozy, fruit-based popsicles came to mind as an entertaining way to enjoy a cocktail with your friends; we think this could be the star attraction at your next backyard party. (Or cure the sadness if rain makes you resort to an indoor bash.)
The most important thing here is that you need an alcohol below 50 proof so that it freezes solid; otherwise you'll have slush. As you'll see here, these pops are loaded with fruit chunks, coconut flavored Malibu rum and a couple of fruit juices. Plastic popsicle molds are sold year round. These pops are a snap to make, with the added bonus of being able to assemble them in advance of your party. As to presentation, I like to fill a large bowl with ice and stick the pops in upside down, sticks pointing skyward. Simply move from guest to guest saying, "Booze popsicle?"
Soak the washed fruit in a cup of rum overnight. Early the next day, remove the fruit from the rum so that it doesn't become too mushy. Use the popsicle sticks to skewer the fruit pieces you like.

In a pitcher mix the rum, with the pineapple and cranberry juices until it turns a lovely pink color. Pour the juice into the popsicle mold. Add the fruit skewer sticks and place in the freezer.
NOTE: Anthony sends a shout-out to regular contributor Alex Province, who knows how to whip up a great drink. Alex, Anthony says he wants to make your sangria recipe and freeze some of it as booze pops.