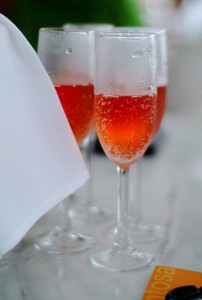 Here's a refreshing glass of summer in Italy, the perfect sparkler to make your guests hungry for food. All you need is the widely available Italian liquer, Aperol, and a blood orange.

Combine the blood orange juice and Campari/Aperol in a cocktail shaker.

Add ice, shake moderately, and strain into a champagne flute.

Drop in blood orange half wheel and fill with chilled Prosecco.
To create blood orange flavor without an orange mix together 1 ounce of fresh squeezed lemon juice with 1 ounce simple syrup and ½ ounce ruby red grapefruit juice and 1 teaspoon of Aperol.