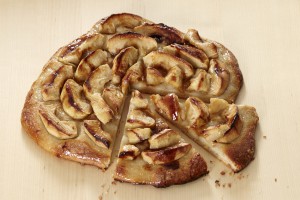 Yes, the former chef to the President of France has created this crazy-easy way to make a sweet apple tart using supermarket pizza dough! And it tastes like you spent hours creating this rustic-looking wonder. While there are truly terrific recipes in Jacques newest cookbook, Jacques Pépin's Heart & Soul in the Kitchen, we fell in love with this one in his fruit dessert section… simple, easy, fantastic. Even on Thanksgiving.
Sprinkle two tablespoons of sugar on a baking sheet lined with nonstick aluminum foil. Place the pizza dough on top and press it out with your hands as thin as possible. Let it rest at room temperature for 15 to 20 minutes.

Preheat the oven to 400 degrees. (Then) press the dough out further into a roundish 12-inch shape. (It will be less elastic and easier to stretch after it has rested.)

Peel and core the apples and cut each one into 8 wedges. Starting about 1/2 inch from the outer edges of the round of dough, arrange the apple wedges in concentric circles on top, pushing them gently into the dough. Dot with the butter and sprinkle evenly with the remaining sugar.

Bake the galette for 45 minutes, or until nicely browned and crusty. Slide a spatula underneath the galette while it is still hot to make certain it hasn't stuck to the sheet, and then let cool on the sheet. Spread the apricot preserves on top. Cut the galette into wedges and serve at room temperature.