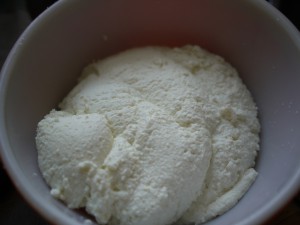 In a very small motor boat galley, Kurtis Denison of Hartford likes to whip up fresh ricotta as an appetizer, or to pair with bolognese sauce, also on this page. "There's just nothing quit like homemade ricotta," he says. We agree. It's ridiculously easy, leaving us wondering why we buy it!
Set a large sieve over a bowl. Dampen 2 layers of cheese cloth and line the sieve. Pour milk, cream and salt into a large pot (enamel works best) and bring to a full boil over medium heat, stirring occasionally to avoid burning.

Remove from heat and add the vinegar or lemon juice and stir. Let mixture set a couple of minutes to form curds.

Pour the mixture into sieve and let drain (usually about 1/2 hour) periodically removing the liquid from the bowl. The longer it drains the firmer the cheese.
Sauté onion, carrot, garlic and red pepper flakes in olive oil over med/high heat till onion is tender. Add pork breaking up big chunks and cook till near done. Add in the remaining ingredients and reduce heat to simmer for 1 hour.

Heat pasta water and cook, drain and pour into pasta bowl add the bolognese sauce, mix well garnish with a dollop of fresh ricotta cheese or freshly grated grana padano.
Fwd: from Faith Middleton, WNPR