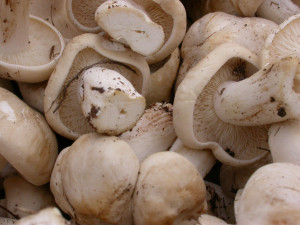 Thank you Lidia Bastianich of PBS…Crispy-edged wild mushrooms, served warm over crunchy frisee and tossed with chopped pancetta, fresh thyme, olive oil, and vinegar, and topped with a fresh grating of Italian Grana Padano cheese. All we can say is oh, baby is this good.  — FM  

To a large skillet over medium-high heat, add 3 tablespoons of the olive oil and the pancetta. Cook until the pancetta is crisp, about 4 minutes, then remove it to drain on paper towels.

Add the mushrooms to the fat left in the pan. Season with the thyme and 1 teaspoon of the salt. Cover and cook, letting the mushrooms release their juices, about 3 minutes. Uncover, increase the heat to high and cook until the liquid in the pan is gone and the mushrooms are browned all over, about 6 minutes. Add the scallions, and cook until wilted, about 3 minutes. Scrape the contents of the pan into a large serving bowl, and let cool 5 minutes.

Once the mushrooms are slightly cool, add the frisée and the reserved pancetta, and drizzle with the vinegar and remaining 2 tablespoons olive oil. Season with the remaining 1/4 teaspoon salt, and toss well. Mound on serving plates and, using a vegetable peeler, shave some Grana Padano over each serving. Serve immediately.