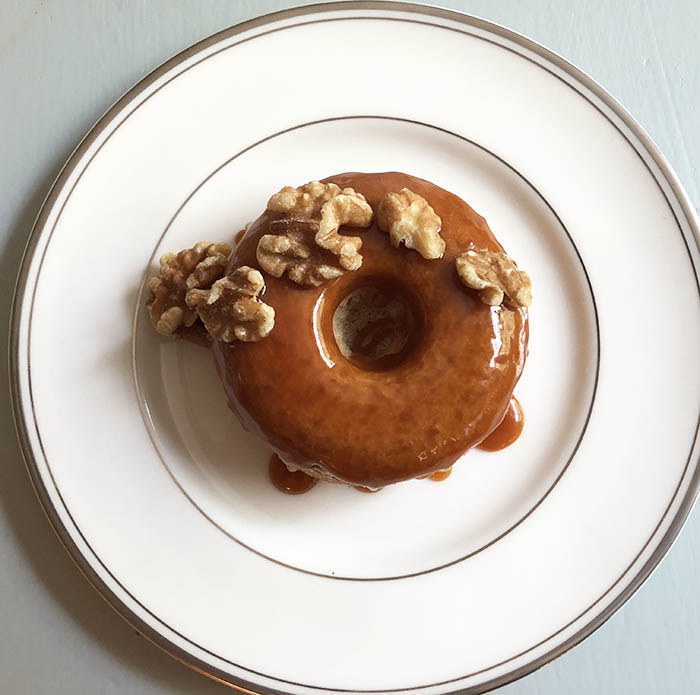 A tasting of The Real McCoy Rum and a platter of baked goods from Nature's Grocer Gluten Free Market, Café & Bakery got Faith wondering. . .What baked treat could showcase the rum we love? Having just tasted the gluten-free blueberry doughnuts from the bakery, we started dreaming up a rum doughnut. What could we use for a glaze? What nuts would pair well with rum?
• ON-DEMAND: Listen to Faith and the team behind Nature's Grocer brainstorm ideas for a rum doughnut. •
Kelly and David Boudreaux, owners of Nature's Grocer, took those questions back to their skilled bakers and a plain doughnut "doctored-up" with a rum, caramel, and nuts was born—and will affectionately be known as "The Faith Doughnut." This is no breakfast doughnut. It's a dessert doughnut, but no forks—pick it up with your hands. Get a little glaze on your chin. Lick the plate. We're not fancy.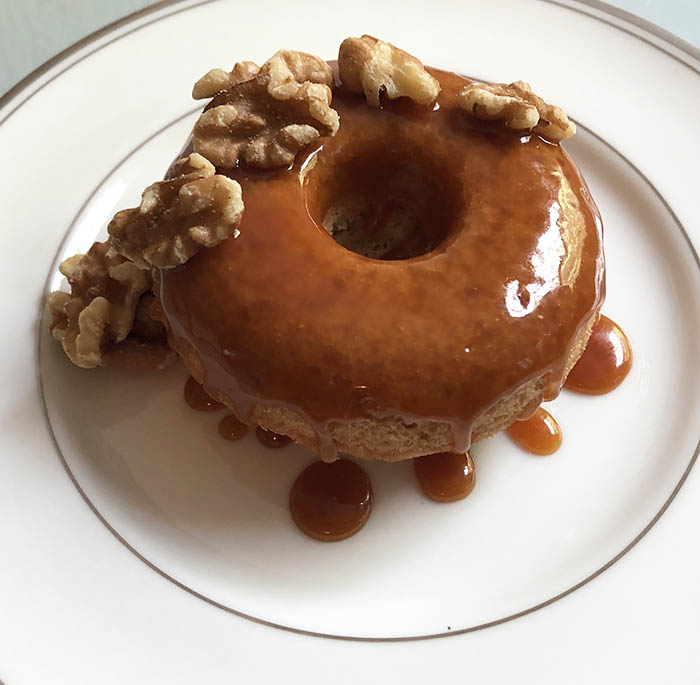 Kelly and David call for a Nature's Grocer Gluten Free, Dairy Free, Egg Free, Soy Free Plain Doughnut to serve as the base, but you can use your favorite gluten-free doughnut mix (or any doughnut mix) if you're inclined to bake these at home. A cake-style doughnut will best absorb the rum (you could poke a few holes in the doughnut with a toothpick, like you would for a pound cake glaze). Add coconut flakes over the caramel sauce, if you like (it is dessert, right? ). Feel free to "doctor-up" your Faith doughnut however you want.
Here are Kelly and David's recommendations, along with their recipe for (non-vegan) Traditional Caramel Sauce (yes, we can see that over ice cream, too!):
Base – Nature's Grocer Gluten Free, Dairy Free, Egg Free, Soy Free Plain Doughnut. Or your favorite gluten-free doughnut mix or cake doughnut.
Drizzle or brush a 1/4-1/2 teaspoon of rum in over top of the doughnut – let it soak in.
Drizzle over or dip the doughnut in caramel (see recipe or use "Nature's Charm Coconut Caramel Sauce" to make it vegan).
Top with raw or toasted walnuts or pecans.
Enjoy!
Photos: Kelly Boudreaux

Place sugar in a small heavy sauce pan. Pour water evenly over the top. Turn stove top to medium-high heat. Hold sauce pan by the handle and swirl, don't stir. Cover pan, turn heat up a bit, and boil for 3-5 minutes. Swirl syrup occasionally until it turns a deep amber.

Remove pan from heat. Add butter. Gently whisk, until all butter is mixed in. Stir in cream.

If sauce becomes lumpy (which is hard to avoid!), set pan over low heat and stir until smooth then turn off heat again. Stir in vanilla, salt and maybe a tablespoon of rum.