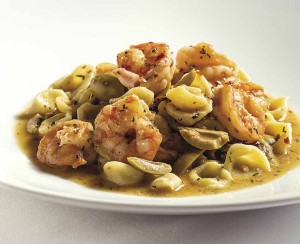 The pasta "orecchiette" simply means "little ears," and that's exactly what they look like once cooked, indented just enough to catch a bit of shrimp, herbs, wine and chicken stock in every bite. This is one of Ben Pollinger's simpler recipes from his cookbook, School of Fish. (He's executive chef at NYC's Oceana.) We like this dish for its blend of intriguing flavors, essence of fresh rosemary, Picholine olives, chicken stock and white wine, mixed with a touch of red pepper flakes. (Picholine olives can be found in some supermarkets but more often in gourmet stores; it's best not to substitute another kind of olive for this dish.)

Bring a large pot of water to a boil for the pasta. Place a colander in the sink to drain the pasta.

When the pasta water boils, add enough salt to make it taste like seawater. Add the orecchiette and cook until al dente, 10 to 11 minutes.

Meanwhile, on a baking sheet, season the shrimp with salt.

Place a 12-inch skillet over high heat. Add 1 tablespoon of the canola oil and heat until it shimmers. Add about half the shrimp to the oil and cook 1 minute. Turn over with a spatula and cook 1 minute more. Remove to a large plate or platter. Add the remaining tablespoon of canola oil and repeat to cook the rest of the shrimp.

Return the first batch of shrimp to the skillet. Add 1 tablespoon of the olive oil, the red pepper flakes, 1 teaspoon of the rosemar, and the olives and stir to coat. Add the white wine and chicken stock and bring to a simmer.

When the pasta is al dente, drain it in the colander. Return it to the pasta pot. Add the contents of the skillet. Stir over high heat to reduce the liquid and coat the pasta, about 1 minute. Add the remaining teaspoon rosemary and the remaining 3 tablespoons olive oil and stir to combine.

Divide the pasta among four deep serving plates or shallow serving bowls, making sure each serving gets an equal amount of shrimp.