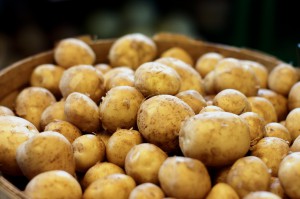 Don't expect an ounce of leftovers from this dish. It's a crowd-pleaser, destined to make your dinners the most coveted invitation on the block. Or, bring the pie to your next potluck, and watch it disappear in minutes. Anyone, and I mean anyone, can make this mouth-watering dish. As one famous actress said about lamb chops, "You throw them in the oven, and what's to keep them from getting done?" This potato wonder is that simple; a few layers of divine things in a pie plate, and into the oven it goes. Serve it with an entree of beef, pork, lamb, fish, or poultry. In fact, you might want to make it bigger by using a larger buttered glass dish to dazzle guests for a holiday. I love this cheesy potato creation paired with the bitterness of broccoli rabe, although any vegetable will do. The truth is, this pie plate special goes with everything!
I discovered this dish in the paperback cookbook, Farm Stand Fresh. Written and illustrated by Manuela Soares and Jeanne Betancourt; it's a celebration of farm stands across the North Fork of Long Island, often referred to as the "Un-Hamptons." Thanks, Manuela and Jeanne, for supporting local farmers, and for your wonderful creativity. Great paintings, Jeanne! (If you'd like a copy, Google Farm Stand Fresh, published by Fig Tree Books.)

Overlap the first layer of potatoes and garlic in a buttered 9-inch pie plate. Sprinkle with half the cheese and half the butter.

Repeat the layer. If you have more potatoes use 1/3 of the cheese and butter each time. You should end up with potatoes on top. (I don't include garlic in the top layer.)

Pour the hot milk over the pie and top with breadcrumbs. Add remaining cheese and butter. Bake for one hour. The top should be golden brown, and the pie should be tender when pierced with a fork.
The ingredients and instructions are from the recipe's creators, Jeanne and Manuela, who say they've enjoyed this hot or cold. On a whim, I'll add more or less cheese, and I always add some salt.