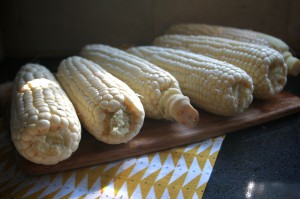 If you like creamed corn you'll love this recipe. It makes a great side-dish for Thanksgiving too. You might want to double the recipe. It also goes well with leftovers.

Preheat the oven to 350 degrees F. Brush a 13 x 9-inch baking dish with some of the butter.

Sprinkle 1/3 cup of the cheese over the bottom of the dish and tilt so the cheese is evenly distributed and adheres to the buttter. (Or you can use ten 4-ounce ramekins for individual servings.)

In a large saucepan, heat the cream until it begins to boil. Add the corn, salt and sugar and heat, stirring occasionally, until the mixture is almost at a boil.

In the meantime, make a paste out of the remaining melted butter and the flour. Stir it into the mixture in the saucepan and cook until thickened and the liquid comes to a boil. Remove the pan from the heat, transfer the mixture to the prepared dish (or ramekins), and sprinkle with the remaining 1/3 cup cheese. Diva Do-Ahead: At this point, you can let cool, cover, and refrigerate for up to 4 days or freeze for up to 1 month. Bring to room temperature before continuing.

Bake the corn until bubbling and golden brown, about 30 minutes. (Individual ramekins will take 15-20 minutes.) Serve immediately.