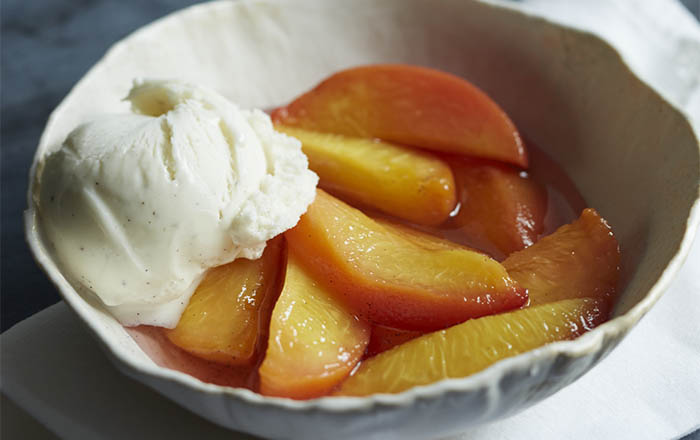 Think of this as the Italian version of bourbon peaches, only prettier because grappa is clear and won't muddy the blush and golden color of the fruit. Be sure to use ripe—but not mushy—freestone peaches; otherwise you'll have a hard time peeling and prying them open.
— Domenica Marchetti
• ON-DEMAND: Listen to Faith's conversation with Domenica about this recipe, as well as two more from the book; the conversation aired both in shows about how to make summer last and again during a show about how to make watermelon salad and rosé sangria for a party. •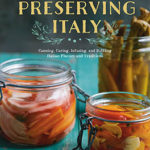 Text excerpted from PRESERVING ITALY © 2016 by Domenica Marchetti. Reproduced by permission of Houghton Mifflin Harcourt. All rights reserved. Photo © 2016 Lauren Volo.
You'll need 3 sterilized 1-quart jars and their lids, and basic water-bath canning equipment for this recipe.

Bring a large pot of water to a rolling boil.

Combine the sugar and water in a heavy-bottomed saucepan and set over medium heat. Stir to dissolve the sugar. Scrape the seeds from the vanilla bean into the sugar water and toss in the pod. Bring to a boil, reduce the heat, and let simmer gently for about 5 minutes, until the syrup is slightly thickened.

Fill a large bowl with ice water and stir the lemon juice into it. Cut a small "X" into the bottom of each peach. When the water is boiling, gently drop in the peaches, a few at a time, and blanch for 60 to 90 seconds to loosen the skins. Transfer them with a slotted spoon or skimmer to the ice water to cool slightly.

Peel the peaches—the skins should slip off easily—and cut them in half or quarters. Pack them into the jars, fitting them as closely and tightly as possible without squishing them. Use a bubble remover or a clean chopstick to help position them snugly against one another. Leave about 1-1/2 inches headspace.

Pour 1/3 to 1/2 cup of the syrup into each jar so that the jar is about two-thirds full of liquid. Use the bubble remover or chopstick to gently jostle the peaches to make sure the liquid sinks to the bottom. Top off with about 1/2 cup grappa, leaving 1/2 inch headspace. Screw the lids on tightly and process for 25 minutes in a boiling-water bath. The peaches will keep, properly sealed, for 6 months; after that they begin to lose their color and texture. Once opened, store in the refrigerator for up to 1 month. If a jar fails to seal properly, refrigerate it and enjoy those peaches first.
Vanilla sugar is made by burying a piece of vanilla bean in your sugar canister.