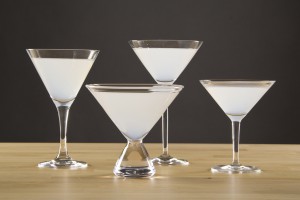 Think of it as a Thanksgiving mood bath, our featured pear-infused vodka cocktail spiked with fresh basil and lemon juice. Take a sip; what do you think? Stress… never heard of it… Uncle Harry's late… but he's such a big doll… guests are saying this is the best Thanksgiving they've ever been to… well, no wonder. We're sipping Pear Basil Sours as we prepare, nibble and pet the dog. Not a care in the world. We thank our cocktail contributor Anthony DeSerio for this one, his go-to drink on Turkey Day. As you can see, it's also wildly easy to make. (I agree with Anthony that Smirnoff Pear Vodka is just right for this one.) — FM

To make Simple Syrup, add 1 cup of granulated sugar to one cup of hot water. Stir until sugar dissolves. Let cool to room temperature and place in a container. It lasts months in the fridge.

Add to your favorite cocktail shaker 3 or 4 fresh basil leaves, Simple Syrup, fresh lemon juice, Pear Vodka and ice. Shake vigorously to allow the basil leaves to bruise and flavor the mixture. Strain into a chilled cocktail glass. (If you use a tea strainer it will keep the basil pieces from landing in your drink.) Enjoy!