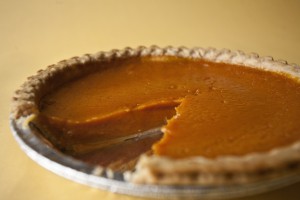 We think you deserve the very best pumpkin pie recipe to dazzle your family and guests. This is my favorite dazzler, from a 2009 Bon Appétit magazine, because this pie combines the spicy quality of pumpkin with just the right amount of caramelized brown sugar, cinnamon, and toasted walnuts. Think pumpkin pie, coffee-cake style! (And you know we love our streusel-topped morning coffee cake.)
Here's another swell thing about this recipe: You can make the topping and the filling a day ahead. I'll do anything I can in advance to dial back Thanksgiving Day stress.
Of all the pies in all the gin joints in the world, why did we feature this one? Despite the popularity of pecan and apple, pumpkin is the most loved pie during this holiday season. We say go for the gold.

Combine all ingredients. Using on/off turns, blend to fine crumbs. DO AHEAD: Can be made 1 day ahead. Store in airtight container at room temperature.
Position oven rack in bottom third of oven; preheat to 350° F. Transfer crust to 9-inch-diameter glass pie dish. Fold edges under and crimp decoratively. Freeze crust 20 minutes.

Line crust with nonstick foil and fill with dried beans or pie weights. Bake until crust is set, about 20 minutes. Gently remove foil and beans. Return crust to oven and bake until partially cooked and golden brown around edges, pressing down on crust with back of spoon if bubbles form, about 15 minutes. Cool crust on rack. Maintain oven temperature.
Whisk brown sugar, eggs, sea salt, cinnamon, ginger, and cloves in medium bowl. Add pumpkin and cream and whisk until well blended and smooth.

Pour filling into crust. Bake pie until filling is firm, covering crust with foil collar if browning too quickly, about 30 minutes.

Sprinkle topping evenly over top of pie. Reduce oven temperature to 325° F; continue to bake pie until filling is set and slightly puffed in center, about 15 minutes longer. Transfer pie to rack and cool completely. DO AHEAD: Can be made 1 day ahead. Tent with foil and chill. Let stand at room temperature 1 hour before serving.