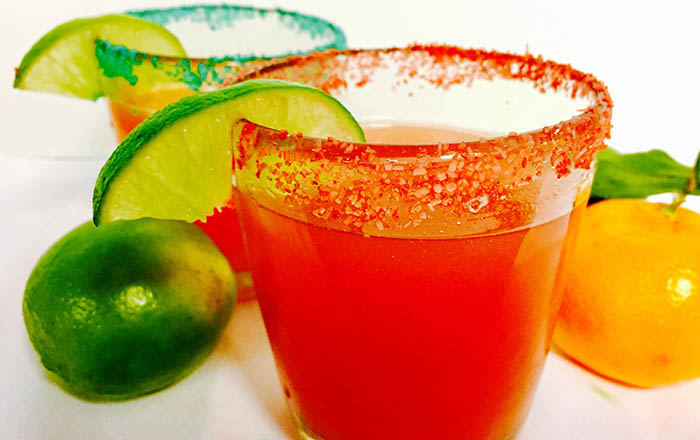 This delicious cocktail from senior contributor Alex Province is a looker — rimmed with festive colorful salt for a Christmas or Hanukkah party. And what gorgeous flavors come together here!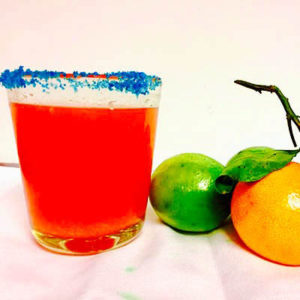 To make the salt rim, you'll need:
• Bag of Kosher salt (3/4 cup will be enough salt to decorate 4-6 glasses)
• Food-Safe food coloring (red, green, blue)
Place a handful of Kosher salt in a small plastic sealable bag. Add a couple of drops of food safe coloring, such as red, green or blue for the holidays. Seal the bag and massage the outside of the bag with your fingers to evenly  color the salt. Place salt on a plate and mix the cocktail.
On-Demand: Listen to Faith and the gang talk about more festive recipes for the holidays (including Anthony DeSerio's Margarita Negroni Punch!) on The Faith Middleton Food Schmooze®.

Fill the shaker half way with ice. Squeeze in the juice from the lime and orange, toss in the squeezed lime half.

Measure in Solerno, tequila and Bruto Americano.

Using the blood orange rind, rub the rim of the glass half way around. Press the glass rim into the salt until the half rim is coated. Shake the shaker with the top on until it's icy cold. Pour into festive salt-coated glasses and serve.