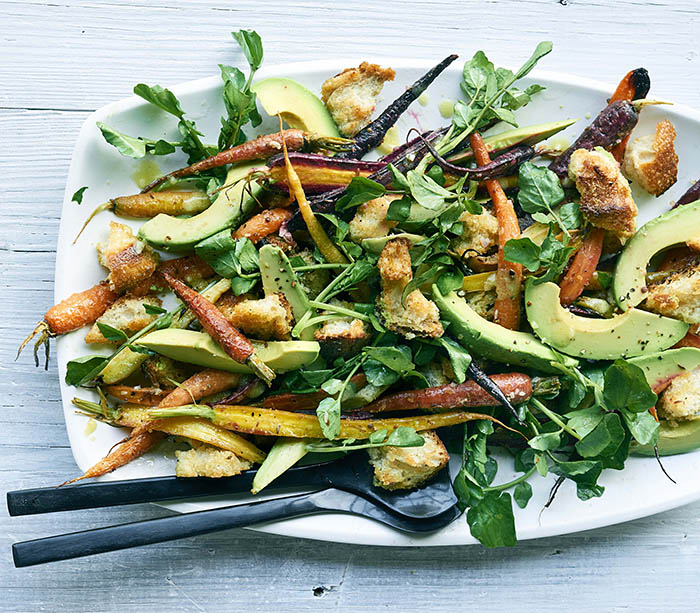 A while back, my buddy Jesse Tyler Ferguson, the incredibly talented actor best known for his role on Modern Family, started a food blog with his friend Julie Tanous. It's filled with healthy riffs on classic recipes—lots of Paleo, lots of gluten-free. All delicious! To celebrate the launch, our mutual friend Ellen Bennett, an apron designer, threw a potluck brunch at her place in LA, so I flew out. Jesse and I woke up early that morning and each prepared something to bring. He made a tangy-fresh salad with fresh and pickled tomatoes. Me? I made this recipe. Roasted-carrot salads aren't anything new, but I definitely amped mine up.
— Justin Chapple
• ON-DEMAND: Listen to Faith's conversation with Justin on The Faith Middleton Food Schmooze®. •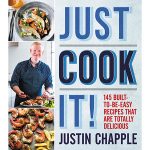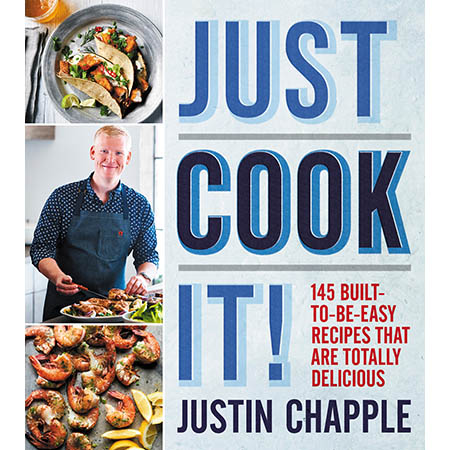 Excerpted from JUST COOK IT! © 2018 by Justin Chapple. Photography © 2018 by David Malosh. Reproduced by permission of Houghton Mifflin Harcourt. All rights reserved.

Preheat the oven to 400°F.

On a large rimmed baking sheet, toss the bread with 1/4 cup of the olive oil and season generously with salt and pepper. Spread in an even layer and bake for about 12 minutes, until golden and almost crisp. Transfer to a bowl and let cool. Keep the oven on.

Meanwhile, in a large bowl, toss the carrots, 2 tablespoons of the olive oil, and the coriander and cumin seeds. Squeeze the orange and lemon over the carrots, then add the squeezed fruit to the bowl, too. Season generously with salt and pepper and toss to mix. Spread on two large rimmed baking sheets and roast for about 25 minutes, until lightly charred and tender. Let cool; discard the orange and lemon.

In a small bowl, whisk together the vinegar, shallot, mustard, and the remaining 6 tablespoons olive oil. Season the vinaigrette with salt and pepper.

On a large serving platter or in a serving bowl, gently toss the bread, carrots, and avocados with the vinaigrette. Add the watercress, season with salt and pepper, and toss to mix. Serve at room temperature.