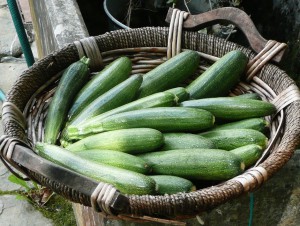 From Faith: In 2009, Food & Wine Magazine asked for permission to print my recipe for feta and watermelon salad, a dish I had brought to Jacques Pepin's picnic. but when I picked up the magazine at my mailbox and opened it, I was transfixed by another contributor's dish, this winning shrimp and feta stuffed zucchini with chopped fennel.
The recipe creator is Ana Sortun, a terrific chef in Cambridge, Mass., where her restaurant Oleana is a popular spot to this day. I've made and enjoyed this dish many times because it's so delicious, not to mention that everyone gives me zucchini.

Preheat the oven to 425°. In a skillet, heat the 2 tablespoons of oil. Add the onion, bell pepper, fennel and garlic and cook over moderately high heat, stirring, until tender, 6 minutes. Add the tomatoes and crushed red pepper and cook, mashing, until thickened, 5 minutes. Season with salt and black pepper. Remove from the heat; let cool slightly. Stir in the shrimp, parsley and dill.

Using a spoon, scoop out the flesh of the zucchini, leaving a 1/4-inch shell all around. Rub with oil. Season the zucchini shells with salt and pepper and stuff with the filling. Transfer to a lightly oiled roasting pan and roast for 30 minutes, until the filling is cooked through and the zucchini is just tender.

Preheat the broiler and position a rack 6 inches from the heat. Top the zucchini with the feta and broil for 5 minutes, until the feta is melted and golden. Serve the stuffed zucchini hot or at room temperature.