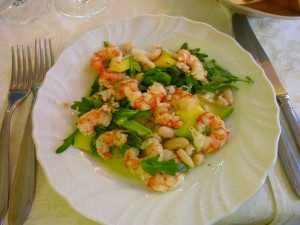 This salad is easy to whip up and full of fresh vegetables. Feel free to substitute your favorites, or add whatever's in season. It can be served warm or at room temperature.

Heat oil in a large skillet over medium-high heat. Add onion and carrot, and cook until they begin to soften, about 3 minutes. Add zucchini, and cook for 3 minutes. Stir in salt, pepper flakes, and coriander. Add shrimp and cook for 1 to 2 minutes or until they turn pink.

Turn shrimp mixture into a mixing bowl. Stir in white beans, parsley, tomato, and lemon and lime juices. Serve immediately or chill before serving.