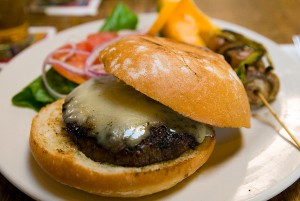 They aren't the prettiest of burgers, but definitely the tastiest. Yeah, the ground beef gets pummeled into the searing hot pan releasing plumes of smoke. Yes, the buns definitely get coated in greasy goodness. And, yup, the American cheese melts all over the place including the bottom of the pan. The reward however, is a gorgeously crusted beef patty, resting within a roll that has been steamed into doughy submission, and dripping with cheese that has melted to gooey perfection. Eat them plain and homely or attempt to dress them up with a tomato slice, lettuce, onion, and pickle. But either way, I promise this burger will bring you back to when cheeseburgers were cheeseburgers were cheeseburgers…. Alex Province

While heating a thick bottomed skillet, form four thin patties from the ground beef and generously salt and pepper both sides.

Once pan is very hot, carefully drop in the patties and allow to sizzle without moving them around. After a moment, press down with a spatula to assure meat's full contact with pan.

After two or three minutes, check to see that a a crust is forming on the underside and if properly crusty and golden brown, flip. Again press down hard on patties to sear.

Next, place a slice of cheese, and the bun (bottom face down and then the top) on the patties and cover using a lid; if lid squishes the buns, even better.

Cook covered until a nice crust has formed, the cheese has melted, and the buns are soft. Serve with or without the usual accoutrements. Enjoy!