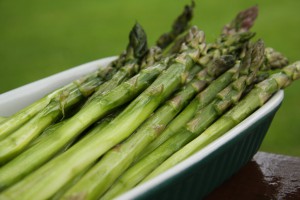 Local asparagus is still at farmers' markets, and that's where we were inspired to play a little with a simple, tasty dish.
In a booth at the Greenport Farmers' Market on the North Fork of Long Island, there was Noah Schwartz, chef and owner of Noah's Restaurant in Greenport, cooking small plates to support farm-fresh products. He handed us a dish of warm asparagus he had just tossed with goat cheese. (It was great, Noah.)
Destined for a large dinner party that night, my partner and I bought lots of farm-fresh local asparagus, and after roasting and chopping it, we added aged grated goat cheese from local Catapano Farm, fresh lemon juice, and topped it with some toasted bread crumbs that we had drizzled with olive oil and sea salt. (You can skip the bread crumbs if you'd like; we like the texture.) But here comes the key to it all…at the last minute, drizzle the asparagus with some truffle oil, toss quickly and serve. What a taste of spring.  — Cheers from Faith

Preheat oven to 400° or preheat gas grill. Meanwhile, toss panko bread crumbs with olive oil and sea salt, and toast for a few minutes until golden in a small toaster oven. (Watch carefully; it browns quickly.) Set aside. Grate 1–2 cups aged goat cheese in a bowl, set aside.

Rinse and break off lower portion of asparagus stems. Line baking sheet with foil for easy clean up, drizzle with olive oil, and add asparagus spears. Roll in oil on sheet until well slathered. Sprinkle with sea salt. Roast asparagus in oven about 30 minutes or so. (Or place oiled asparagus spears on gas grill and turn until done.)

Remove asparagus from oven or grill, chop spears into three segments. While still warm, put spears in a large bowl, add grated goat cheese and bread crumbs, and toss well. Drizzle with truffle oil, squeeze a little lemon juice on top. Toss lightly a final time and serve.